AI generates crazy new machines, including a robotic dachshund
On the Horizon Forbidden West subreddit, a user recently posted images of new machines for the post-apocalyptic game. While some of them are pretty cute, others look so dangerous that I prefer to bypass them first.
However, these machines were not designed by the Guerilla developers or the user himself, but by an AI, appropriate to the game setting.
Artificial intelligence creates a giant rabbit machine
Among the scariest machines is a rabbit. It might seem crazy at first, but T-Rex-sized bunnies aren't so cute anymore. Just like their other animal robot colleagues, this comes from the Stable Diffusion software, with which you can also generate images from text yourself in the online demo.
Link to Reddit content
Apart from the more menacing machines, like the rabbit, there are also several dog-like machines, like a cuddly dachshund and a kind of German shepherd.
At first glance you might not notice the funny fellows, but at second glance you will realize that a few of the new robot pets have some weird details and thus show the limits of the AI. For example, the giant machine rabbit has fur, which is very unusual in the world of Horizon.
Perspectives on future pets?
One question the post definitely raises is: Will Aloy have an "animal" sidekick in a possible sequel? Of course, this is just concept fan art, but it's easy to imagine that in the future we'll not only be able to take mounts with Aloy, but also get some sort of pet that we will help explore the world of Horizon.
Here you can see how diverse the machines of Forbidden West are: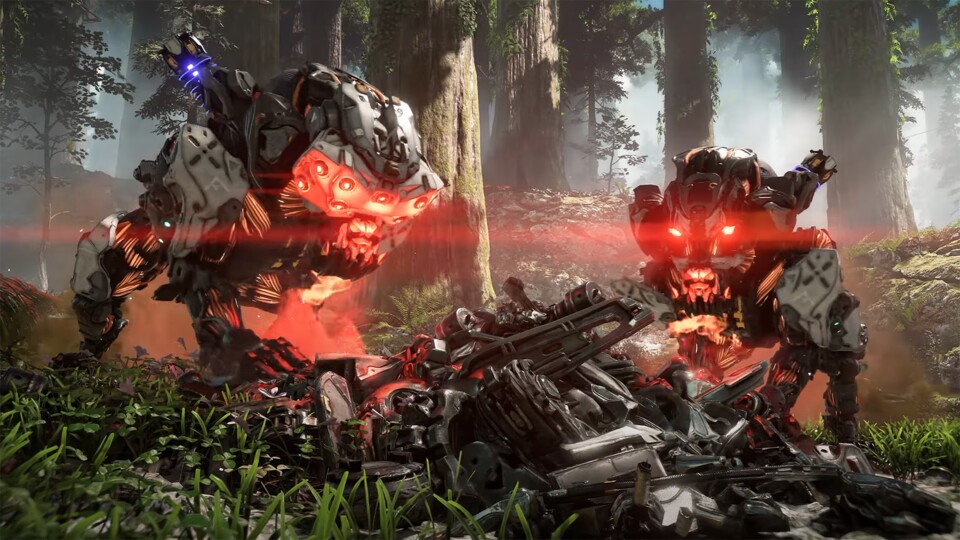 2:01



Horizon Forbidden West Trailer Shows Diversity Of Machine Beings
AI art instead of fan art
Even though the AI ​​spits out some pretty cool results with this little gadget, programs like Stack Diffusion are quite controversial in the community. Particularly passionate fan artists feel alienated by this type of AI.
Nevertheless, it is impressive to see what the software is currently capable of.
Learn more about Horizon Forbidden West:
We can remain curious to see what these AIs will achieve in the future and if we will soon see a dachshund alongside Aloy.
What do you think of the "new" machines? Would you like a pet dachshund or would you rather fight the giant rabbit?