"Long live Gareth Bale!" chanted the Welsh supporters' chant, as the tube train drew closer and closer to the Ahmad bin Ali Stadium. Their fans were fewer than those who had made the short trip to the Persian Gulf from Iran, but they were determined to make their voices heard.
On the contrary, it's not impossible that there were actually more Welsh supporters in Qatar than English supporters – they certainly seemed more visible, anyway. No wonder, given it was their first World Cup since 1958 – nobody wanted to miss it, and they made the most of the trip. As the Bale era draws to a close, qualification for the next tournament remains an unknown.
They encountered a generally friendly country – those who direct the supporters in the stadiums and the various accommodation sites did their best to be welcoming, as did the locals. "The country has been waiting for this moment for 12 years," we were told on the subway.
Hugely disappointing, a number of Wales supporters had their rainbow hats removed by security ahead of their opener against the USA, but red, yellow and green hats in Welsh colors were still visible outside the stadium before this game against Iran. .
Some of these Welsh fans had joined TFF on the way to the match from our accommodation for the night in a portacabin village in Zafaran, next to the Lusail Formula 1 circuit north of Doha.
Public transport was relatively well organized during this tournament – the metro goes to most of the stadiums, and a large number of free buses have also been set up between the venues and the various accommodation villages, as well as the centre- town.
TFF tested two different types of accommodation this week, in a city that lacked hotel rooms and therefore had to find unconventional solutions – among them cruise ships, as well as apartment villages, tents, portacabins, even caravans.
Things seemed to be going pretty well in the Al Janoub apartment village south of Doha, where hundreds of staff were on hand 24/7 to serve the large number of visitors.
In portacabin village, things were more chaotic – TFF arrived to check in at 2am (last game of the day ends around midnight local time), only to find a long queue of people trying to do the same. The rooms were always cleaned by the staff on site and only became available at 3.30am for TFF – even later for others, many of whom were sleep-deprived and increasingly angry.
A solitary man stood behind the makeshift front desk, answering complaint after complaint, giving the impression that he was overwhelmed by it all – almost as if he realized that trying to make a temporary hotel out of hundreds of portacabins was no good. wasn't such a good idea after all. It wasn't the only night there were such long lines for late night check-in.
"I even saw a guy still putting up a sign earlier," said an American guest. "Man, it's day six."
When we finally got our room key and took a 10 second video of the queue on our phone, two staff members came out of nowhere, informed us that "Sir, filming is not allowed in this area", and insisted that we remove it. .
Once there the portacabin itself was fine: a bed, wifi, portable AC unit, everything we needed, but not exactly luxury for £165 a night, with accommodation prices surprisingly raised everywhere in this World Cup.
TFF have been here since Monday, taking on Wales against USA from the stands, when Rob Page's men worked hard until Kieffer Moore came on at half-time and changed everything.
That night Bale equaled Chris Gunter as Wales' record appearance maker, although for the most part the 33-year-old had probably one of his most disappointing performances in a Dragons shirt. .
"He's too slow – every time he got the ball he gave it away," said a fan close to us in the second half. "He's f**ked, get him down," was another's less measured view.
Luckily that didn't happen, and Bale was still on the pitch to win and then hammer in the penalty which gave Wales a vital point, and gave them a decent chance of qualification, going into this game. with Iran. Win against a side that lost 6-2 to England in their opener, and Page's side would potentially be on the verge of the last 16.
It soon became apparent, however, that it was not quite the same Iranian team that had lost so generously to England.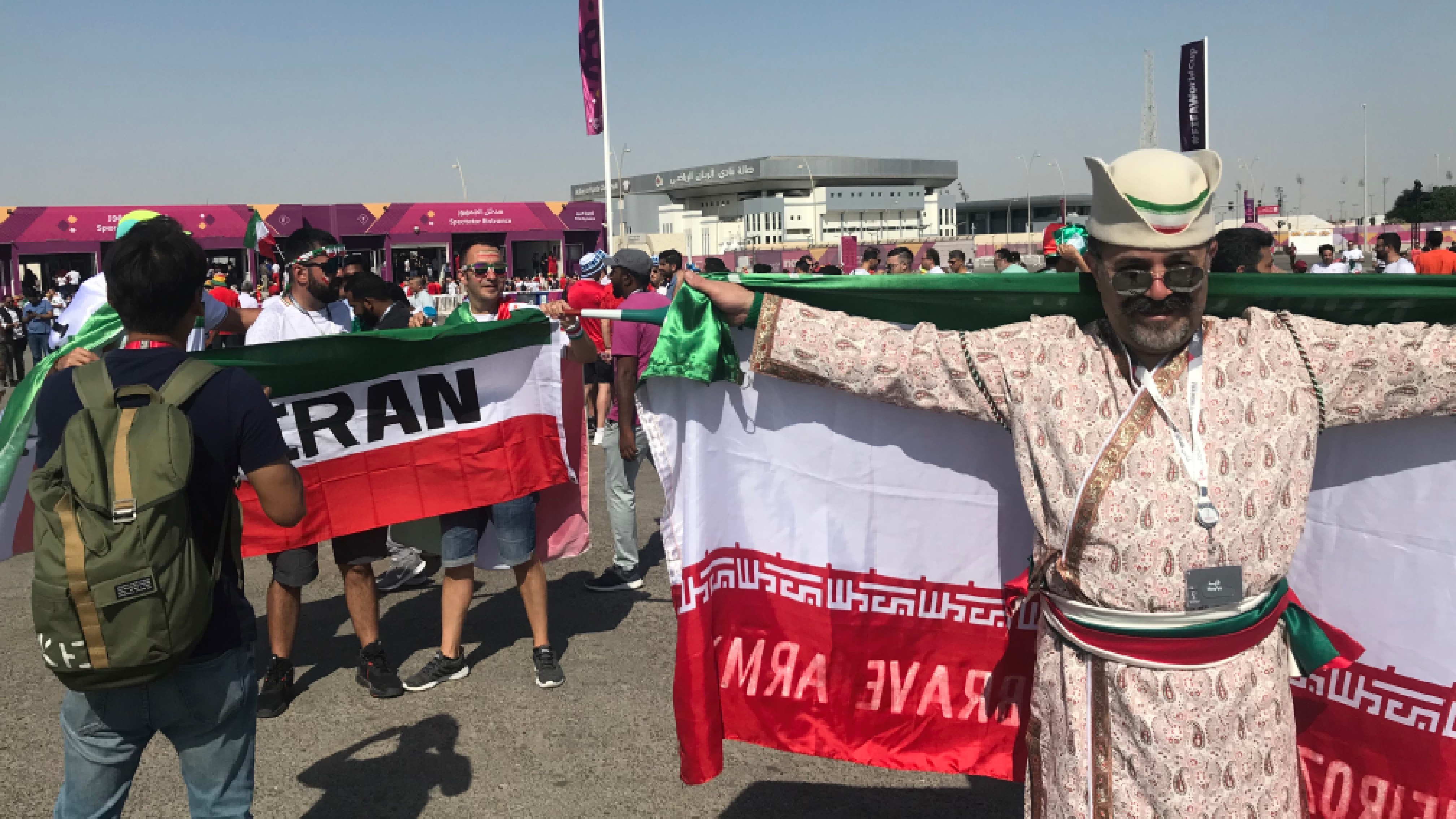 Then boss Carlos Queiroz felt the ongoing political protests at his home were distracting his team – especially as the media constantly asked them to comment on them. Queiroz even confronted a journalist who asked striker Mehdi Taremi about it during the pre-match press conference for this game against Wales.
Iran's players refused to sing their national anthem against England – this time they did, albeit reluctantly and seemingly reluctantly, as Iranian fans jeered from the stands and another supporter of the Asian country was spotted on camera crying sadness over the situation.
When the match started, Iran looked much more focused and determined than against England – advancing as far as they could and then putting the ball into the net with a smooth move finished by Ali Gholizadeh, only for VAR the rule. off-side.
Wales had already had their chance when Moore's shot was saved, but their fans were busy withering in the heat – they had been placed in the part of the stadium that was directly exposed to the post- midday.
Unfortunately, the arena as a whole was far from full – at least a quarter of the 45,000-seat venue appeared empty at kick-off, the farthest from capacity of any match we've seen so far. now in this world. Cup, although it seemed to fill up to a reasonable amount during the match itself.
Iran's initial momentum subsided, and Wales largely had the best of the first half without massive threats – entering the interval with 66 per cent possession.
At the start of the second half however, they had a huge let go – the stadium erupted in Iranian fervor after Sardar Azmoun ran clear and hit the right post and then Gholizadeh shot against the left post seconds later, before Wayne
Hennessey saved Azmoun's header from the rebound.
At Euro 2020 Wales drew their opener against Switzerland and then produced a stunning, incisive performance in the win over Turkey – that wasn't quite the case here.
Again, Bale didn't have the impact on the game that Wales might have hoped for, not entirely accustomed to starting twice in four days these days. Although the Dragons had the better of possession, it was Iran who looked much more dynamic when winning the ball in the frontcourt.
Page quickly moved to four at the back, bringing Brennan Johnson and Dan James on as wide men, but Iran still looked the most likely to break the deadlock, with Hennessey making a fine save to deny Saeid Ezatolahi. Yet it was the Iranian supporters who made most of the noise, with Welsh supporters watching anxiously.
Joe Allen's arrival on the pitch from injury prompted a brief turnaround, as Ben Davies' effort was knocked down, but then came Hennessey's 86th-minute dismissal for charging his line and taking down Taremi – if a cover defender just about saved him from a red malpractice card, the high leg in the striker's face was enough to turn the initial yellow card red after a VAR check.
In one match, Wales knew they might just need to win to progress through the group. Suddenly, they had to hold on with 10 men for 13 minutes – including the mandatory nine minutes of stoppage time – just to secure a draw.
They couldn't: in the eighth extra minute, Rouzbeh Cheshmi fired underkeeper Danny Ward to finally break the deadlock. Three minutes later, while the game was still going on, Ramin Rezaeian added a second on the counterattack.
The joy was boundless among Iranian fans all around the stadium, celebrating with deafening noise. Wales fans stood in stunned silence, devastated by the result.
Wales' chances of qualification now hinge on beating England in their final group game and other results going forward – it won't be easy, but they won't give up.
Whatever happens, their followers had an experience they will never forget in their lives.
"Viva Gareth Bale," they sang before the game. If they are to find an unlikely path to the last 16, Bale may have to deliver something quite special on Tuesday.